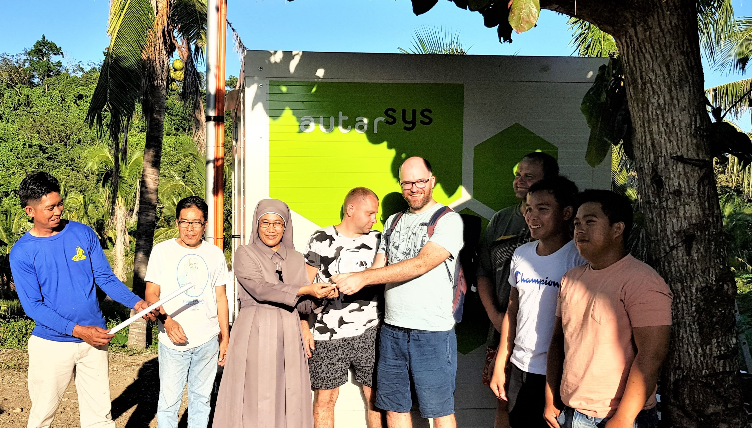 Grid-Connected Solar and Storage System Powers Community in Typhoon-Prone Northern Philippines
ESS Manufacturer Autarsys Commissioned Grid-Connected System for Franciscan Community to Meet Climate Challenges
Beneficiaries Include Local Hospital and College

SANTA ANA, PHILIPPINES and BERLIN, GERMANY – In Santa Ana in the province of Cagayan in the Philippines, a community of 1,500 under the leadership of the Franciscan Apostolic Sisters (FAS), has a grid-connected solar energy and storage system that's been successfully operating since its commissioning on the 1st of April.
The grid-connected hybrid system is equipped with a 124.2 kWh battery, 30 kVA battery inverter and a 64-kilowatt peak (kWp) photovoltaic field. In the event of a power disruption, the community's energy system can run without a power supply from the local grid.
From the initial planning phase that started in 2017 to commissioning this year, project developers saw the community's demand for electricity significantly increase. For Autarsys this did not translate into setbacks. Their modular design allows battery and inverter modules to be integrated as energy profiles change.
Situated in the northernmost part of the Philippines, the region is hit by up to 20 typhoons a year resulting in power outages that can have life-altering effects. Outages force the community to rely on polluting gensets that can burn through 4,800 liters of diesel annually.
Before the system was installed, the community relied on diesel generators as a backup source of power during climate emergencies. Blackouts can have devastating effects, "paralyzing emergency medical procedures, classroom programs and other labor and carpentry works," said head Sister Josephine P. Mata. The new hybrid renewable energy system combines battery modules, a solar PV field, and a diesel genset that can operate independently of the grid.
The installed BESS minimizes the community's carbon footprint and reliance on the local grid by optimizing renewable energy generated by the solar field.
The community includes Saint Anthony's College, a school for primary and secondary level education, Fr. Gerry Filippetto Memorial Foundation Hospital and the Sisters' convent. The mission serves local indigenous people as well as tourists and new arrivals in the Economic Zone Authority. St. Anthony's College provides post-secondary education to local Cagayans who are compelled to stay local because of family commitments or financial restrictions.
Inspired by Pope Francis' call for Ecological Integrity, the Sisters decided to take concrete steps towards a clean energy future. This renewable system is part of the FAS' broader mission to align their community and programs with their environmental values. Other initiatives include a new water treatment plant, bio-gas facility for processing animal waste into fuel, protection of indigenous land and cultures, and the preservation of local forests, particularly mangroves as local development accelerates.
This comes as interest in Cagayan is growing with the government's Economic Zone Authority that aims to develop the region into the most competitive local economy in Asia Pacific Region.
Today, the FAS, college and hospital in Santa Ana have a renewable energy system that keeps them resilient as demands on the local grid increase. As business spurred by the Economic Zone continues to develop in the region, Mata hopes that her community's switch to renewables helps "convince other institutions in this place to shift to clean energy."
The solar field was installed by Filipino solar EPC, Cenag Solar, Inc.