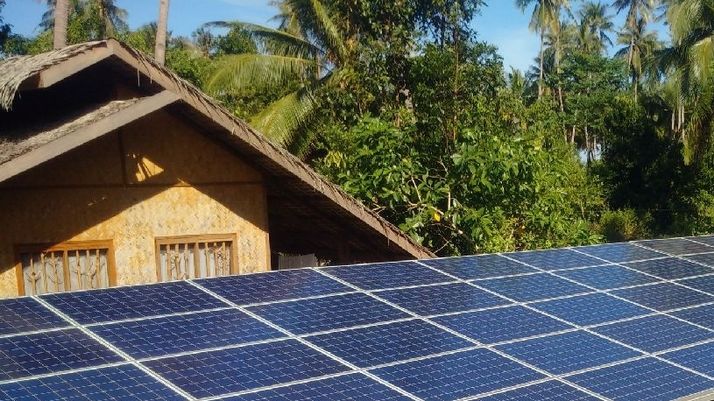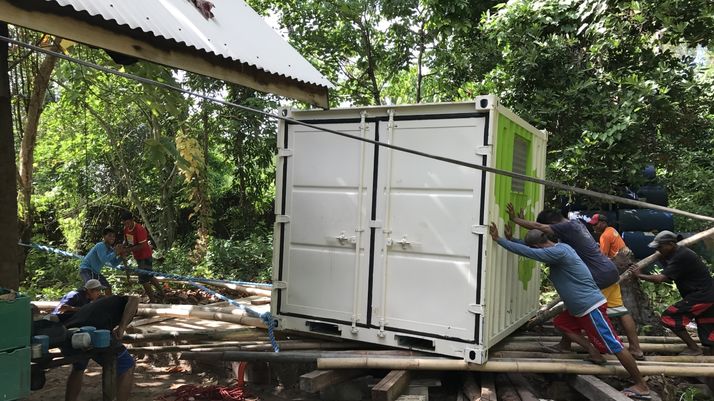 Ecoligo.investments opens solar-battery project in Philippines for investment
A project to power an off-grid eco resort in the Philippines has opened for investment on the crowdinvesting platform www.ecoligo.investments. Private investors will refinance the solar-plus-storage system, which has a solar capacity of 42 kWp and has been in operation since October 2016. The core of the system is a 124.2 kWh battery, supplied by energy storage specialist Autarsys GmbH. Investors will receive 6.0% p.a. interest over 6 years, with a minimum investment of €500. The financing volume of this project is €101,000.
BERLIN/FRANKFURT - The renewable hybrid system saves at least 12,500 litres of diesel and 33 tonnes of CO2 emissions per year and powers Qi Palawan, an eco resort located on the Philippine island of Palawan. In bad weather or during the night, lights are kept on by the energy storage system. Qi Palawan receives approximately 2,000 guests per year and is certified by Zero Carbon Resorts (ZCR). Compared to diesel gensets, the new energy solution is noiseless and thus fits perfectly with the feel-good character of a holiday destination.
This is the first solar-plus-storage project to be financed on ecoligo.investments. It is also the first project in the Philippines, representing a move into a new market for the crowdinvesting platform. Solar-plus-storage systems are very well suited to the archipelagic geology of the Philippines, a country whose ambition to utilise clean energy is hindered by difficulties in transmission. With their minimal impact on the local environment, such systems are particularly appropriate for ecotourism resorts and hotels, which are often remote and have limited access to electricity and therefore primarily run on diesel gensets.
The project is owned and operated by Enervinci Philippines Inc., which was founded as a German-Philippine operator company. Its shareholders have pre-financed the Qi Palawan project. After successful completion of the optimization and testing phase, continuous operation has been started since October 2016 and refinancing has been decided. The energy storage system is supplied by German manufacturer Autarsys GmbH, which specialises in management technologies for renewable energy. The installation for the project was done by CEnAG, a German-Filipino company that is engaged in the engineering, design and installation of commercial and residential solar photovoltaic systems in the Philippines. CEnAG will also be responsible for the maintenance of the system.
More information can be found at www.ecoligo.investments/enervinci-qi-palawan.
Bettina Rodarte, CEO of Qi Palawan, said:
"At Qi we strive to create an oasis that honors the natural environment and brings value to the local community. I'm thrilled that our resort is part of the solution with this progressive green technology."
Matthias Ross, CEO of Autarsys GmbH, said:
"Ecotourism is more than a burgeoning market, it's the right way to travel and respect local social and ecological spaces. By partnering with Qi Palawan, we've seen how renewable energy storage systems seamlessly integrate and benefit the communities and environments in which they operate."
About ecoligo invest GmbH
ecoligo.investments is a crowdinvesting platform for renewable energy projects in emerging markets. It was initiated by ecoligo GmbH, which selects the projects to be presented to interested investors. The platform is operated by ecoligo invest GmbH, a wholly-owned subsidiary of CrowdDesk GmbH. Find out more at ecoligo.investments.
About Autarsys GmbH
Autarsys is a Berlin-based company that specializes in containerized energy storage systems (ESS) for off-grid and on-grid applications. Autarsys' ESS maximize the potential of renewable energies in hybrid systems by up to 90%. The company develops projects in all corners of the world, with a focus on emerging and developing markets. Find out more at autarsys.com.
Media contacts
| | |
| --- | --- |
| ecoligo invest GmbH | Autarsys GmbH |
| Martin Jendrischik | Masha Burina |
| +49 151 239 157 80 | +49 176 432 881 40 |
| martin.jendrischik@ecoligo.investments | burina@autarsys.com |